4 Long Term Vision
In this Chapter, we present research subjects that need to be addressed by European organizations to enable and support effective development of European industry and society in about a decade from today. The previous chapters have presented status, trends, and plans for the near future, including challenges that are foreseen to require special attention within the coming decade. We build upon these identified challenges and specify long-term industrial needs. These needs are the basis for research programs for effective research and development in appropriate technological and/or application domains, so that European technological strength increases continuously in time and at the appropriate rate. Since lead-time from a first scientific breakthrough (TRL1) to market presence of related products (TRL9) is about 10 years, the effective identification of the future industrial needs is a determining factor for the success and speed of innovation.
The long-term vision is shaped by three main factors: technology, application domains and policies. Clearly, all factors are drivers of innovation, because (i) anticipated technological advances lead to innovative applications of these advances and (ii) user needs lead to technological innovations that enable applications and services. At the same time, policies and politically established goals and processes lead technologies and applications towards common goals and targets. Such goals include the Green Deal and European industrial competitiveness and technological sovereignty (Chips Act plans). Each of these factors motivates, shapes and initiates innovation efforts at many levels.
Regarding policies, which lead many technologies and applications in a pan-European scale, the ECS community has specified its common objectives that influence and shape long term innovation and must be considered in the future research directions. As anticipated in the Introduction, these four high-level common objectives are:
boosting industrial competitiveness through interdisciplinary technology innovations;
ensuring EU digital transition through secure, safe and reliable ECS supporting key European application domains;
establishing and strengthening sustainable and resilient ECS value chains that support the Green Deal, gaining technological sovereignty in the process, and
unleashing the full potential of intelligent and autonomous ECS-based systems for the European digital era.
These objectives, which are aligned with policies and European political priorities, address the need to establish unrestricted access to goods and services, free exchange of know-how and information, under trusted, protected and regulated multilateral agreements in the emerging international political and economic landscape. European Union's policies to protect its strategic autonomy, and sustain its competitiveness are shaping and continuously advancing, especially for the ECS industry, which constitutes the backbone of the digital society. European digital sovereignty – European Union's ability to maintain control and security of its products, overcoming disruptions and vulnerabilities – is one of the major challenges when considering that its major economic drivers, i.e., digitization and connectivity, are strongly dependent on the supply of hardware and software from countries outside Europe.
This challenge needs to be addressed immediately, for the short term as well as for the long term, by research programs in the following topics:
Safety and security: development of rigorous methodologies, supported by evidence, that a system is secure and safe; safety and security are requirements for trustworthiness. These methodologies should enable certification through appropriate methods, such as testing and/or formal methods to prove trustworthiness guarantees.
Artificial intelligence and machine learning (AI/ML): AI/ML-based techniques will contribute significantly to the development of robust ECS components, systems, and applications, with short development cycles. AI/ML will influence all major technologies in ECS development, from model-based engineering and embedded software to fabrication, and will constitute a major link between quality, reliability, safety, and security.
Trustworthiness: development of methodologies that integrate traditional ECS technologies with AI/ML, from device level up to applications and human interface. Trustworthiness is key to the acceptance of such emerging systems. Advances in explainable AI models for human/ system interaction, safety, security, risk analysis and management, liability and certification are necessary for the necessary trustworthiness that will lead to the acceptance of the new generation of innovative products.
The European Green Deal is another policy that combines wide civilian acceptance with high political priority and shapes innovation strongly. As climate change and environmental degradation pose an existential threat to Europe and the world, the European Green Deal is the European strategy to make the economy of the European Union sustainable in the long term199. By 2050, a modern resource-efficient and competitive economy must be in place, characterized by:
zero net emissions of greenhouse gases;
economic growth decoupled form resource use;
inclusion (no person and no place are left behind).
The ECS community is instrumental to the realization of the European Green Deal. The many challenges associated with energy management can be tackled only with ECS-based solutions, leading to energy-efficient ECS devices as well.
The first three high-level common objectives (competitiveness, robustness of ECS products and establishing value chains) can be achieved only reaching the fourth one as well. The "unleashing" of intelligent and autonomous ECS-based systems requires the interdisciplinary effort and coordination of all stakeholders, academic, institutional, and industrial. In the effort to ensure effective and timely identification of effective exploitation of opportunities, a close cooperation of all stakeholders along the value chain is a prerequisite. This cooperation is traditionally strong in Europe and constitutes a valuable European strategic asset. This strength is based on the availability of many research facilities with excellent competence and extensive experience in the ECS domain. This comprehensive ecosystem of universities, RTOs, and industrial research organizations distributed across many countries in Europe forms a leading incubator for pioneering technologies that enable the creation of hyper-smart, safe, secure, and resource efficient electronic components and systems. This ecosystem enables increasingly networked scientific work and is the base for maintaining the competitiveness of the European ECS industry now and in the future. Cooperation also offers the best opportunities for coping with the growing interdependencies and interdisciplinarity through strong coupling of basic and applied research within the European Research Framework Programme. This, in turn, creates the fertile soil, from which industry can receive substantial impulses to achieve breakthrough solutions with minimal time to market, leading to maintenance of European technological excellence and leadership, which is the cornerstone of long-term European technological leadership and a basis for prosperity and peace in our continent.
Additionally, and independently of policies, long-term vision is shaped by technological and application evolution and revolution. Many future applications will be enabled by enhanced functional and non- functional properties provided by new technologies (both hardware and software), as projected in technology-application roadmaps such as the one shown in Figure F.96. Typically, the advances that are foreseen through roadmaps are considered evolutionary. However, there have been several occurrences of revolutionary or disruptive developments in technology. These are not projected in roadmaps, they exploit and establish innovative technological models and have tremendous technological and societal impact. Often, they lead to paradigm shifts with significant impact to business and society. The World Wide Web is a typical example of disruptive technology.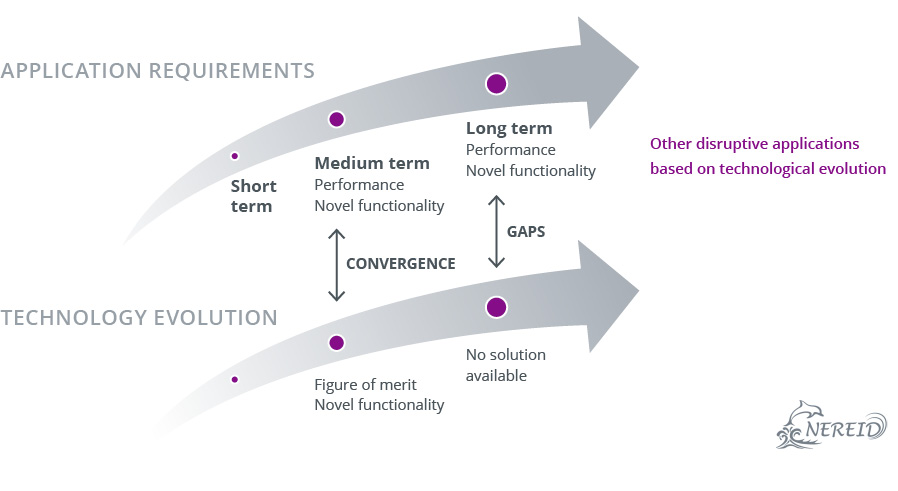 Over the last decades, the ECS domain has evolved from a technology-driven field to an environment where societal needs and application requirements guide the research agendas of the centers of expertise. However, technology-driven research goals need to be a part of the research agendas, considering that novel technologies often create and enable new classes of applications. The European competences in both 'More Moore' and 'More than Moore' have been instrumental in bringing about this change, resulting in a strong European position in markets that require complex multifunctional smart systems. Clearly, maintaining and extending these competences is fundamental to the continuous offering of disruptive technologies that will preserve the European competitive position.
In this Chapter, we present the main research trends that are of particular importance to the European Strategic Research and Innovation Agenda. Clearly, a list of anticipated evolutionary and revolutionary, or disruptive, technologies and challenges is infeasible, by its very nature. Considering the three factors that shape the long-term vision - technology, application domains and policy - in the following section we present a model that enables us to present challenges in a systematic way. We consider policies to provide the framework as well as parameters for technologies and applications and then, we present technological challenges and needs to be met in application domains.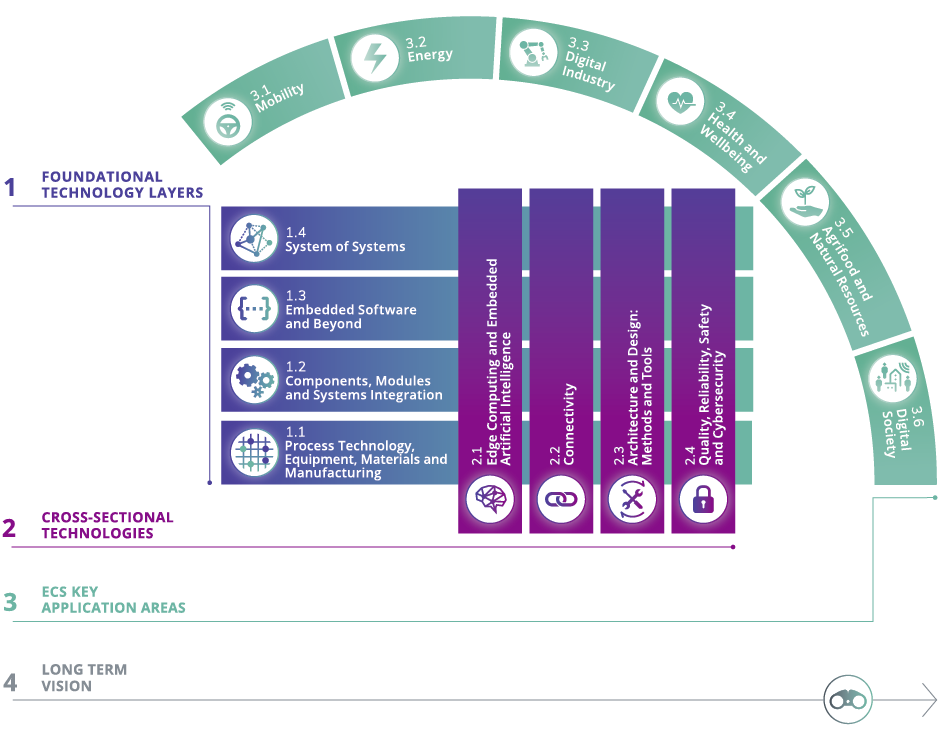 We consider a layered model for the technological and application challenges for ECS, as shown in Figure F.97. The foundational technology areas enable the description of components and systems in a hierarchical fashion at different levels of abstraction. For example, components and modules, which are described in Layer 1.2, are built exploiting technologies at Layer 1.1 and provide basic components to build systems of systems (SoS) at Layer 1.4. together with embedded software elements of Layer 1.3.
Cross-sectional are the technologies that can be included in any or all foundational technology areas; they can be considered as properties that are implemented with different technological methods in the various foundational technology layers. For example, AI/ML or reliability are technologies that can be integrated at the device level as well as at the component and system level; apparently, at each level, they are implemented with different methodologies and address different problems.
Importantly, the circular layer around the technological layers indicates that the systems that are built with the foundational and cross-sectional technologies are used to implement applications in various domains. The circular layer enumerates the bulk of application domains where European ECS constitute an effective, successful international competitor.
In the remaining sections of this Chapter, we present challenges in technologies, fundamental and cross- sectional, as well as in the application domains that are enumerated in Figure F.97, with the understanding that our presentation addresses evolutionary and revolutionary technologies based on conventional technological and societal understanding. Independently, our expectation is that disruptive innovations will be readily integrated in our long-term view, since they will affect part or parts of the layered model which we exploit for abstraction, understanding, presentation and openness.
The European ECS community, spanning from academia to industry, has been a world-renowned leader in research, development, and innovation for the past decades. The competition of US and Asian communities is strong and requires significant European effort and investment, so that Europe retains leadership in some areas and gains it in others in the coming years, considering the dramatic increase in need for ECS systems due to the emergence of IoT and the corresponding embedded and cyber-physical systems.
In this Chapter, we have presented research and innovation directions for ECS in the long-term, considering the European priorities, such as the Green Deal, and the main objectives of the European ECS community. Considering the interdependence of emerging technologies, application domains and policies that drive innovation, and considering the corresponding trends of European industry in the next few years, we identified long-term challenges for technologies and applications, to provide direction for the community to meet the expected needs of the future. Clearly, the list of challenges and directions that we provide is neither complete nor restricting. Innovation is a continuous process that adapts to new technological capabilities - as they progress - application needs and, even, new application domains that are not foreseen. However, the current review indicates a clear path to establishing European leadership considering current trends and constraints