2 CROSS-SECTIONAL TECHNOLOGIES
2.4
Quality, Reliability, Safety and Cyber-Security
Modern technologies and new digitised services are key to ensuring the stable growth and development of the European Union and its society. These new technologies are largely based on smart electronic components and systems (ECS). Highly automated or autonomous transportation systems, improved healthcare, industrial production, information and communication networks, and energy grids all depend on the availability of electronic systems. The main societal functions145 and critical infrastructure are governed by the efficient accessibility of smart systems and the uninterrupted availability of services.
Ensuring the reliability, safety and security of ECS is a Major Challenge since the simultaneous demand for increased functionality and continuous miniaturisation of electronic components and systems causes interactions on multiple levels. This Chapter addresses these complex interdependencies by considering input from, and necessary interaction between, major disciplines. The quality, reliability, safety and cybersecurity of electronic components and systems are, and will be, fundamental to digitised society (see Figure F.42). In addition, the tremendous increase of computational power and reduced communication latency of components and systems, coupled with hybrid and distributed architectures, impose to rethink many "traditional" approaches and expected performances towards safety and security, exploiting AI and ML.
In practice, ensuring reliability, safety, and security of ECS is part of the Design, Implementation, and Validation/Testing process of the respective manufacturers and – for reasons of complexity and diversity/heterogeneity of the systems – must be supported by (analysing and testing) tools. Thus, the techniques described in Chapter 2.3 (Architecture and Design: Method and Tools) are complementary to the techniques presented here: in that Chapter, corresponding challenges are described from the design process viewpoint, whereas here we focus on a detailed description of the challenges concerning reliability, safety, and security within the levels of the design hierarchy.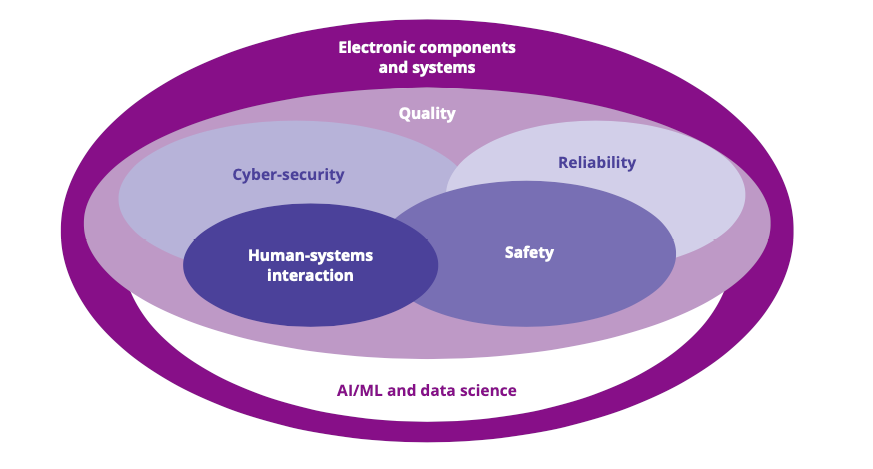 "The role of the technology is to allow persons to express their potential". Hans Rosling, in his book Factfulness: Ten Reasons We're Wrong About the World – and Why Things Are Better Than You Think, plots the life quality of the world's population in groups at successive levels. He shows how such groups, even those at the bottom level, will move forward over time to the next level. Technology can help accelerate that progression. An emblematic example of that is the project launched by Facebook and the Internet Society (ISOC) to develop internet exchange points (IXPs) throughout Africa. Albeit not without difficulty, IXPs help promote e-learning to improve education in the continent, and for connected drones to deliver medicines and other products to remote populations.
The recent Covid-19 pandemic has emphasised the importance of digital technology to the western world, with the recourse to robots in several hazardous situations, from disinfecting airplanes and hospital rooms, to delivering medication to isolated patients. Digital technology that can fit these diverse needs should address holistically concerns such as quality of service, reliability, safety, trustworthy, privacy, cybersecurity and human–system integration. A degraded behaviour in any of these dimensions, or an incorrect integration among them, would affect vital properties and could cause serious damage. In addition, such shortcomings in safety, reliability and security might even outweigh the societal and individual benefits perceived by users, thus lowering trust in, and acceptance of, the technologies. All these topics and features constitute the core of this Chapter.
Europe is internationally known for its high-quality product standards, which enjoy a strong international reputation. The European Union (EU) has a robust and reliable safety and product liability regulatory framework, and a rigorous body of safety standards, complemented by national, non-harmonised liability regulations. In the past, this has been a big success for European embedded systems in almost all industries, including automotive, telecommunications, manufacturing, railway, avionic and military defence, to name but a few of the many sectors where people rely on them.
However, in light of the two main drivers of digitalisation and connectivity, Europe is highly dependent on the supply of hardware and software from countries outside of Europe. Dominating market players in the information and communications technology (ICT) sector – such as those in the expanding sectors of social networks, logistic and e-commerce are expanding their products towards industrial domains. In addition, recent revelations regarding espionage and state-sponsored surveillance have initiated a debate on the protection of core EU values such as security, privacy, data protection and trust. Therefore, digital strategic autonomy – the ability of the EU to maintain a high level of control and security of its products, responding quickly if potential vulnerabilities are noticed – is of utmost importance. A strategic advantage can be achieved by designing reliable, safe and secure products where the dependencies to foreign products are transparently considered. A difference for EU products can also be achieved by treating privacy and necessary human interaction with its own set of independent standards, where technology will keep its limits according to European values when interacting with citizens.
To introduce the topic presented in this Chapter, we first present some definitions that will be useful to clarify the concepts described in the Major Challenges.
Production quality

: often defined as "the ability of a system being suitable for its intended purpose while satisfying customer expectations", this is a very broad definition that basically includes everything. Another widely used definition is "the degree a product meets requirements in specifications" – but without defining the underlying specifications, the interpretation can vary a lot between different stakeholders. Therefore, in this Chapter quality will be defined "as the degree to which a product meets requirements in specifications that regulate how the product should be designed and manufactured, including environmental stress screening (such as burn-in) but no other type of testing". In this way, reliability, dependability and cybersecurity, which for some would be expected to be included under quality, will be treated separately.

Reliability

: this is the ability or the probability, respectively, of a system or component to function as specified under stated conditions for a specified time.

Prognostics and health management

: a method that permits the assessment of the reliability of the product (or system) under its application conditions.

Functional safety

: the ability of a system or piece of equipment to control recognized hazards to achieve an acceptable level of risk, such as to maintain the required minimum level of operation even in the case of likely operator errors, hardware failures and environmental changes to prevent physical injuries or damages to the health of people, either directly or indirectly.

Dependability

: according to IEC 60050-192:2015, dependability (192-01-22) is the ability of an item to perform as and when required. An item here (192-01-01) can be an individual part, component, device, functional unit, equipment, subsystem or system. Dependability includes availability (192-01-23), reliability (192-01-24), recoverability (192-01-25), maintainability (192-01- 27) and maintenance support performance (192-01-29), and in some cases other characteristics such as durability (192-01-21), safety and security. A more extensive description of dependability is available from the IEC technical committee on dependability (IEC TC 56).

Security

: measures can provide controls relating to physical security (control of physical access to computing assets) or logical security (capability to login to a given system and application) (IEC 62443-1-1):

m

easures taken to protect a system;

c

ondition of a system that results from the establishment and maintenance of measures to protect the system;

c

ondition of system resources being free from unauthorized access, and from unauthorized or accidental change, destruction or loss;

c

apability of a computer-based system to provide adequate confidence that unauthorized persons and systems can neither modify the software and its data nor gain access to the system functions, and yet ensure that this is not denied to authorized persons and systems;

Cybersecurity

: the protection of information against unauthorized disclosure, transfer, modification or destruction, whether accidental or intentional (IEC 62351-2).

Robust root of trust systems

: these are based on cryptographic functionalities that ensure the authenticity and integrity of the hardware and software components of the system, with assurance that it is resilient to logical and physical attacks.
Emulation and Forecasting: cybersecurity evolution in parallel to increasing computation power and hybrid threats mixing geopolitical, climate change and any other external threats impose to anticipate the horizon of resilience, safety and security of systems forecasting attacks and incidents fast evolution.
Five Major Challenges have been identified:
Major Challenge 1

: Ensuring HW quality and reliability.

Major Challenge 2

: Ensuring dependability in connected software.

Major Challenge 3

: Ensuring cyber-security and privacy.

Major Challenge 4

: Ensuring of safety and resilience.

Major Challenge 5

: Human systems integration.
MAJOR CHALLENGE

TOPIC

SHORT TERM (2023–2027)

MEDIUM TERM (2028–2032)

LONG TERM (2033 AND BEYOND)

Major Challenge 1:

Ensuring HW quality and reliability

Topic 1.1: Quality: in situ and real-time assessments

Create an environment to fully exploit the potential of data science to improve efficiency of production through smart monitoring to facilitate the quality of ECS and reduce early failure rates

Establish a procedure to improve future generation of ECS based on products that are currently in the production and field
Feedback loop from the field to design and development

Provide a platform that allows for data exchange within the supply chain while maintaining IP rights

Topic 1.2: Reliability: tests and modelling

Development of methods and tools to enable third generation of reliability – from device to SoS

Implementation of a novel monitoring concept that will empower reliability monitoring of ECS

Identification of the 80% of all field-relevant failure modes and mechanisms for the ECS used in autonomous systems

Topic 1.3: Design for (EoL) reliability: virtual reliability assessment prior to the fabrication of physical HW

Continuous improvement of EDA tools, standardisation of data exchange formats and simulation procedures to enable transfer models and results along full supply chain

Digital twin as a major enabler for monitoring of degradation of ECS

AI/ML techniques will be a major driver of model-based engineering and the main contributor to shortening the development cycle of robust ECS

Topic 1.4: PHM of ECS: increase in functional safety and system availability

Condition monitoring will allow for identification of failure indicators for main failure modes

Hybrid PHM approach, including data science as a new potential tool in reliability engineering, based on which we will know the state of ECS under field loading conditions

Standardisation of PHM approach along all supply chains for distributed data collection and decision-making based on individual ECS

Major Challenge 2:

Dependable connected software architectures

Topic 2.1: Dependable connected software architectures

Development of necessary foundations for the implementation of dependable connected software to be extendable for common SW systems (open source, middleware, protocols)

Set of defined and standardised protocols, mechanisms and user-feedback methods for dependable operation

Availability of European ecosystem for dependable software, including certification methods

Topic 2.2: Dependable softwarisation and virtualisation technologies

Create the basis for the increased use of commodity hardware in critical applications

Definition of softwarisation and virtualisation standards, not only in networking but in other applications such as automation and transport

Widely applied in European industry

Topic 2.3: Combined SW/HW test strategies

Establish SW design characteristics that consider HW failure modes

Establish techniques that combine SW reliability metrics with HW reliability metrics

Efficient test strategies for combined SW/HW performance of connected products

Major Challenge 3:

Ensuring privacy and cybersecurity

Topic 3.1: Trustworthiness

Root of trust system, and unique identification enabling security without interruption from the hardware level up to applications, including AI
Definition of a framework providing guidelines, good practices and standards oriented to trust

Definition of a strategy for (modular) certification under uncertain and dynamically changing environments
Consolidation of a framework providing guidelines, good practices and standards oriented to trust

Liability

Topic 3.2: Security and privacy by design

Establishing a secure and privacy-by-design European data strategy and data sovereignty

Ensuring the protection of personal data against potential cyber-attacks in the data-driven digital economy
Ensuring performance and AI development (which needs considerable data) by guaranteeing GDPR compliance

 

Topic 3.3: Ensuring both safety and security properties

Guaranteeing information properties under cyber-attacks (quality, coherence, integrity, reliability, etc.) independence, geographic distribution, emergent behaviour and evolutionary development

Ensuring the nominal and degraded behaviour of a system when the underlying system security is breached or there are accidental failures
Guaranteeing a system's coherence while considering different requirements, different applied solutions, in different phases
Evaluating the impact of the contextualisation environment on the system's required levels of safety and security

Developing rigorous methodology supported by evidence to prove that a system is secure and safe, thus achieving a greater level of trustworthiness

Major Challenge 4:

Ensuring safety and resilience

Topic 4.1: safety and resilience of (autonomous AI) systems in dynamic environments

Resources' management of all system's components to accomplish the mission system in a safe and resilient way
Use of AI in the design process – e.g. using ML to learn fault injection parameters and test priorities for test execution optimisation

Apply methods for user context and environment assessments and sharing of information for stakeholder-requirement generation to prototypical use cases, establish practices of use and generally applicable tools

Develop standard processes for stakeholder context and environment assessments and sharing of information
Develop standard processes for stakeholder knowledge, skills, and competence capturing techniques to inform requirements generation
Develop educational programs to increase the levels of common stakeholder knowledge, skills and competences for sustainable product uptake across Europe

Topic 4.2: modular certification of trustable systems and liability

Contract-based co-design methodologies, consistency management techniques in multi-domain collaborations

Develop centers of excellence for early assessments, holistic design activities, and lifelong product updates and bring facilitate convergence among researchers, developers, and stakeholders can be realized, practiced, and established as lighthouses of holistic Design and Development of embedded components

 

Topic 4.3: Dynamic adaptation and configuration, self-repair capabilities (decentralised instrumentation and control for), resilience of complex systems

Support for dependable dynamic configuration and adaptation/maintenance
Concepts for SoS integration, including the issue of legacy system integration
Using fault injection methods, models-of-the-physics and self-diagnostic architecture principles to understand the true nature of the world, and respond to uncertain information (included sensor's false positives) or attacks in a digital twin
run-time adaptation and redeployment based on simulations and sensor fusion
Architectures that support distribution, modularity and fault containment units to isolate faults, possibly with run-time component verification

Develop prototypical use cases where interdisciplinary research and development centers allow for the intermingling of experts and stakeholders for cross-domain coordinated products and life-long product support. This should allow sufficient demonstrate

 

Topic 4.4: safety aspects related to HCI

Minimising the risk of human or machine failures during the operating phases
Ensuring that the human can safely interface with the machine, and also that the machine prevents unsafe operations
Ensuring safety in machine-to-machine interaction

 

 

Major Challenge 5:

Human–systems integration

Topic 5.1: systematize methods for user, context, and environment assessments and sharing of information for user-requirement requirements generation

Provide means for user centered methods to achieve an impact on overall product design
Establish stakeholder knowledge, skills, and competence capturing techniques to inform requirements generation

 

 

Topic 5.2: develop simulation and modeling methods for the early integration of Humans and Technologies

Link early assessments, holistic design activities, and lifelong product updates and bring facilitate convergence among researchers, developers, and stakeholders
Establish tools to bring stakeholder knowledge, skills, and competence capturing techniques to inform design and development activities

 

 

Topic 5.3: establish multi-disciplinary research and development centers and sandboxes

Interdisciplinary research and development centers allow for the intermingling of experts and stakeholders for cross-domain coordinated products and life-long product support
Establish tools and processes to update stakeholder knowledge, skills, and competence capturing techniques to inform design and development activities

 

 
The Major Challenge "Ensuring HW quality and reliability" is a key element for any ECS, which is why it can be linked to any application area. It is directly linked to the technology Chapter: Components, Modules and Systems Integration. For quality, the novel design of reliability methodologies such as PHM requires direct connection to all cross-sectional technologies (Edge Computing and Embedded Artificial Intelligence; and Architecture and Design: Methods and Tools).



The Major Challenge "Ensuring dependability in connected software" is strongly linked to the Chapter Embedded Software and Beyond as implementations will cover embedded devices to a high degree. It is also linked to the Connectivity Chapter and the Edge Computing and Embedded Artificial Intelligence Chapter since software must reliably interact remotely, from a system to the edge and to the cloud. From a different perspective, it is also linked to the Chapter on System of Systems considering that software-based systems will be integrated over distances.




The Major Challenges "Cybersecurity and privacy" and "Safety and resilience" address robust and resilient systems in a complex ecosystem without interruption, from the hardware level up to applications, including systems that may be enabled by AI. The outcome of these challenges supports all application Chapters, in particular Health and Wellbeing, Mobility, Digital Industry, Digital Society and Agrifood and Natural Resources. Moreover, they are also linked to the Chapters Edge Computing and Embedded Artificial Intelligence, Architecture and Design: Methods and Tools, Embedded Software and Beyond and System of Systems.







145 Vital societal functions: services and functions for maintaining the functioning of a society. Societal functions in general: various services and functions, public and private, for the benefit of a population and the functioning of society.