1 Foundational Technology Layers
1.3
Embedded Software and Beyond
The Artemis/Advancy report38 states that "the investments in software technologies should be on at least an equal footing with hardware technologies, considering the expected growth at the higher level of the value chain (Systems of Systems, applications and solutions)"38. According to the same report, embedded software technology and software engineering tools are part of the six technology domains for embedded intelligence. Embedded intelligence is the ability of a system or component to reflect on its own state (e.g. operational performance, usage load, environment), and as such is a necessary step towards the level of digitalisation and sustainability that is aimed for. In this context, embedded intelligence supports the green deal initiative, as one of the tools for reaching sustainability.
Embedded software enables embedded and cyber-physical systems (ECPS) in a way that they can play a key role in solutions for digitalisation in almost every application domain (cf. Chapters 3.1-3.6). The reason for this Chapter being entitled Embedded Software and Beyond is to stress that embedded software is a key component of system's internal intelligence, it enables systems to act on external events, and it enables inter-system communication.

Figure F.12 illustrates the role and positioning of the Embedded Software and Beyond Chapter in the ECS- SRIA. The Chapter on Components Modules and System Integration is focused on functional hardware components and systems that compose the embedded and cyber-physical systems (CPS), considered in this Chapter. While the System of Systems (SoS) Chapter is based on independent, fully functional systems, products and services (which are also discussed in this Chapter), they are also the constituents of SoS solutions. The Architecture and Design: Methods and Tools Chapter examines engineering processes, methods, and tools, while this Chapter focuses more on the engineering aspects of Embedded Software and Beyond.
For the discussion of safe, trustworthy, and explainable AI in the context of embedded intelligence this Chapter is also linked to the Quality, Reliability, Safety and Cybersecurity Chapter 2.4.

From a functional perspective, the role of Embedded and Cyber-Physical Systems (ECPS) in complex systems is becoming increasingly dominant (e.g. cars, trains, airplanes and health equipment) because of the new software-enabled functionalities they provide (including aspects as security, privacy and autonomy). In these systems, most of the innovations nowadays come from software. ECPS are also required for the interconnection and interoperability of systems in SoS (e.g. smart cities, air traffic management). Owing to all these factors, ECPS are an irreplaceable part of the strive towards digitalisation of our society.
At the same time, ECPS need to exhibit required quality properties (e.g. safety, security, reliability, dependability, sustainability, and, ultimately, trustworthiness). Furthermore, due to their close integration with the physical world, ECPS must take into account the dynamic and evolving aspects of their environment to provide deterministic, high-performance, and low-power computing, especially when processing intelligent algorithms. Increasingly, software applications will run as services on distributed SoS involving heterogeneous devices (e.g: servers, edge devices) and networks, with a diversity of resource restrictions. In addition, it is required from ECPS that its functionalities and its hardware capabilities evolve and adapt during their lifecycle – e.g. through updates of software or hardware in the field and/or by learning. Building these systems and guaranteeing their previously mentioned quality properties, along with supporting their long lifetime and certification, requires innovative technologies in the areas of modelling, software engineering, model-based design, verification and validation (V&V) technologies, and virtual engineering. These advances need to enable engineering of high-quality, certifiable ECPS that can be produced (cost-)effectively (cf. Chapter 2.3, Architecture and Design: Methods and Tools).

The scope of the challenges existing in embedded software engineering for ECPS includes:
Interoperability.
Complexity.
Software

quality

(

safety

,

security

, performance prediction and run-time performance,

reliability

,

dependability

,

sustainability

, and, ultimately,

trustworthiness

).

Lifecycle

(

maintainability

,

extendibility

).

Efficiency

,

effectiveness

, and

sustainability

of software development.
Dynamic environment of

ECPS and adaptability.

Maintenance

,

integration

, rejuvenation and

extendibility

of

legacy

software solutions.
To enable ECPS functionalities and their required level of interoperability, the engineering process will be progressively automated and will need to be integrated in advanced SoS engineering covering the whole product during its lifetime. Besides enabling new functionalities and their interoperability, it will need to cover non-functional requirements (safety, security, run-time performance, reliability, dependability, sustainability, and, ultimately, trustworthiness) visible to end users of ECPS, and to also satisfy quality requirements important to engineers of the systems (e.g. evolution, maintenance). This requires innovative technologies that can be adapted to the specific requirements of ECPS and, subsequently, SoS.
Further complexity will be imposed by the introduction of Artificial Intelligence (AI), machine-to-machine (M2M) interaction, new business models, and monetisation at the edge. This provides opportunities for enhancing new engineering techniques like AI for SW engineering, and SW engineering for AI. Future software solutions in ECPS will solely depend on new software engineering tools and engineering processes (e.g., quality assurance, Verification and Validation (V&V) techniques and methods on all levels of individual IoT and in the SoS domain).
Producing industrial software, and embedded software in particular, is not merely a matter of writing code: to be of sufficient quality, it also requires a strong scientific foundation to assure correct behavior under all circumstances. Modern software used in products such as cars, airplanes, robots, banks, healthcare systems, and the public services comprises millions of lines of code. To produce this type of software, many challenges have to be overcome. Even though software in ECPS impacts everyone everywhere, the effort required to make it reliable, maintainable and usable for longer periods is routinely underestimated. As a result, every day there are news articles about expensive software bugs and over budget or failed software development projects. Currently, there is no clearly reproducible way to develop such software solutions and simultaneously manage their complexity. Also, there exist big challenges with correctness and quality properties of software, as human wellbeing, economic prosperity, and the environment depend on it. There is a need to guarantee that software is maintainable and usable for decades to come, and there is a need to construct it efficiently, effectively and sustainably. Difficulties further increase when legacy systems are considered: information and communications technology (ICT) systems contain crucial legacy components at least 30 years old, which makes maintenance difficult, expensive, and sometimes even impossible.
The scope of this Chapter is research that facilitates engineering of ECPS, enabling digitalisation through the feasible and economically accountable building of SoS with necessary quality. It considers:
c

hallenges that arise as new applications of

ECPS

emerge.

c

ontinuous

integration

, delivery and

deployment

of products and processes.

e

ngineering and management of

ECPS

during their entire

lifecycle

, including

sustainability

requirements.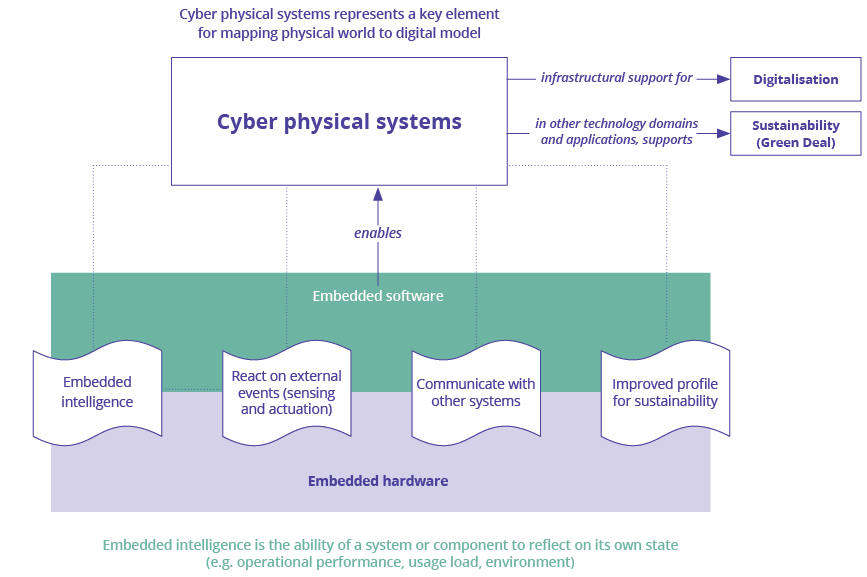 Computing systems are increasingly pervasive and embedded in almost all objects we use in our daily lives. These systems are often connected to (inter)networks, making them part of SoS. ECPS bring intelligence everywhere, allowing data processing and intelligence on the site/edge, improving security and privacy and, through digitalisation, completely changing the way we manage business and everyday activities in almost every application domain (cf. Chapters 3.1-3.6). ECPS also play a critical role in modern digitalisation solutions, quickly becoming nodes in distributed infrastructures supporting SoS for monitoring, controlling and orchestrating of supply chains, manufacturing lines, organisation's internal processes, marketing and sales, consumer products.
Considering their role in digitalisation solutions, ECPS represent a key technology to ensure the continuity of any kind of digital industrial and societal activity, especially during crises, and have an indirect but significant impact on the resilience of economic systems. Without ECPS, data would not be collected, processed, shared, secured/protected, transmitted for further analysis. Embedded software allows for the practical implementation of a large set of such activities, providing the features required by the applications covered in this SRIA, where it becomes a technology enabler. The efficiency and flexibility of embedded software, in conjunction with the hardware capabilities of the ECPS, allows for embedded intelligence on the edge (edge AI), opening unprecedented opportunities for many applications that currently rely on the human acting involvement (e.g. automated driving, security and surveillance, process monitoring). Moreover, digitalisation platforms exploit embedded software flexibility and ECPS features to automate their remote management and control through continuous engineering across their entire lifecycle (e.g. provisioning, bugs identification, firmware and software updates, configuration management). It is the requirement of embedded software to improve sustainability of these platforms.
1.3.3.1
      Open source software and licenses
Free software (FS) is defined by 4 freedoms: the freedom to run as you wish, to study and change the source code, to redistribute copies and to distribute copies of your modified versions39. Open source doesn't just mean access to the source code. The Open Source Initiative (OSI) details the distribution terms of open-source software must to comply with the following criteria 10 criteria40. Today more than 100 open sources licenses41 are compliant with these criteria knowing OSI recommends 10 of them because they are popular, widely used, or have strong communities42: Apache 2.0, BSD-2 & 3, GPL, LGPL, MIT, Mozilla 2.0, CDDL and EPL 2.0.
Because Open Source components are usually the core building blocks of application software in most innovative domains43, providing developers with an ever-growing selection of off-the-shelf possibilities that they can use for assembling their products faster and more efficiently, it is essential to understand the benefits and the constrains that come with open source licenses.
The following license spectrum diagram can summarize the freedom from a user point view:

A "strong copyleft" license requires that other code that is used for adding, enhancing, and/or modifying the original work also must inherit all the original work's license requirements such as to make the code publicly available. The most notably strong copyleft licenses are GPL, and AGPL. A weak copyleft license only requires that the source code of the original or modified work is made publicly available, other code that is used together with the work does not necessarily inherit the original work's license requirements. The most known and used copyleft licenses are LGPL and EPL 2.0. A permissive license, instead of copyleft protections, carries only minimal restrictions on how the software can be used, modified, and redistributed, usually including a warranty disclaimer. Apache 2.0, BSD and MIT are the most known and used permissive licenses.
Weak copyleft and permissive licenses are generally considered "business-friendly" licenses because they do not restrict derivative works. For example, the EPL 2.0 allows sub-licensing and creation of software from EPL or non-EPL code. The Apache 2.0 license does not require that derivative works be distributed under the same terms. The MIT and BSD licenses place very few restrictions on reuse, so they can easily be combined with other types of licenses, from the GPL to any type of proprietary license44.
In any case, licensing is an important, complex and broad topic. Therefore, it is recommended to include legal experts when a product with third-party open source dependencies is developed or an open source license is considered for a product.
Embedded software significantly improves the functionalities, features, and capabilities of ECPS, increasing their autonomy and efficiency, and exploiting their resources and computational power, as well as bringing to the field functionalities that used to be reserved only for data centres, or more powerful and resource-rich computing systems. Moreover, implementing specific functionalities in software allows for their re-use in different embedded applications due to software portability across different hardware platforms. Example of increasing computational power of ECPS are video conferencing solutions: less than 20 years ago specialised hardware was still required to realise this function, with big screens in a dedicated set-up that could not be used for any other but a dedicated application. Today, video conferencing is available on every laptop and mobile phone, where the main functionality is implemented by software running on standard hardware. The evolution is pushing to the "edge" specific video conferencing functionalities, adopting dedicated and miniaturised hardware supported by embedded software (video, microphone, and speakers), thus allowing the ECS value chain to acquire a new business opportunity.
Following a similar approach, it has been possible to extend the functionalities of mobile phones and smart watches, which today can a.o. count steps, keep track of walked routes, monitor health, inform users about nearby restaurants, all based on a few extra hardware sensors and a myriad of embedded software applications. The trend is to replace specialised hardware application with software running on generic computing hardware and supported by application-specific hardware, such as AI accelerators, neural chips. This trend is also contributing to the differentiation of the value creation downstream and upstream, as observed in the Advancy report 45 (see Figure F.15).
These innovations require the following breakthroughs in the field of embedded software:
Increased engineering

efficiency

and an effective product

innovation

process (cf. Chapter 2.3 Architecture and Design: Methods and Tools).
Enabled

adaptable systems

by

adaptable

embedded

software

and machine reasoning.
Improved system

integration

and

verification and validation

.
Embedded software, and

embedded data analytics

and

AI

, to enable system health

monitoring

,

diagnostics

,

preventive

maintenance

, and

sustainability

.
Data

privacy

and

data integrity

.

Model-based embedded software engineering

and

design

as the basis for managing

complexity

in

SoS

(for the latter, cf. Chapter 2.3 Architecture and

Design

: Methods and Tools).
Improved

multidisciplinary

embedded software

engineering

and software architecting/

design

for (systems) qualities, including

reliability

,

trust

,

safety

,

security

, overall system

performance

,

installable

,

diagnosable

,

sustainability

,

re-use

(for the latter, cf. Chapter 2.3 Architecture and Design: Methods and Tools and Chapter 2.4 Quality,

reliability

,

safety

and cybersecurity).

Upgradability, dealing with variability,

extending

lifecycle

and sustainable operation.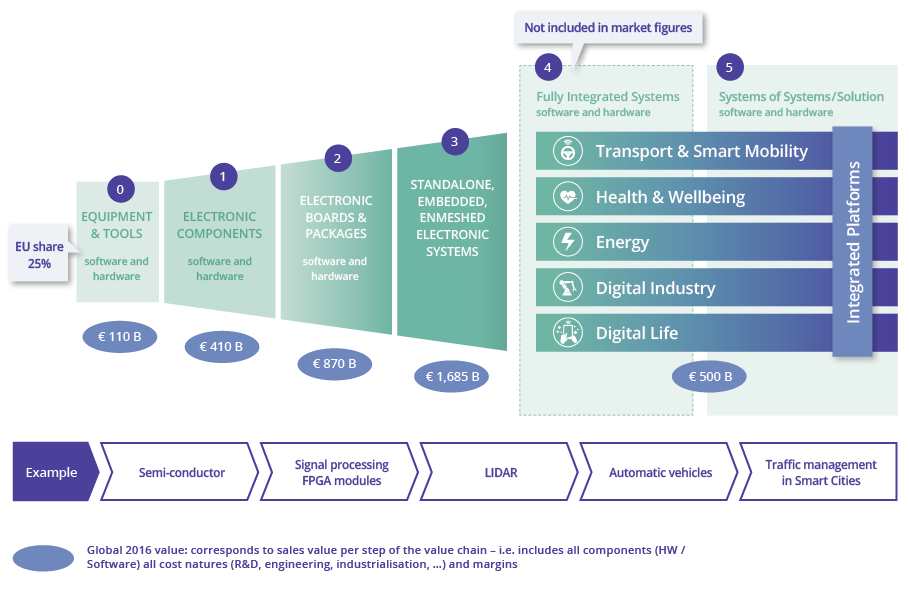 The ambition of growing competences by researching pervasive embedded software in almost all devices and equipment is to strengthen the digitalisation advance in the EU and the European position in embedded intelligence and ECPS, ensuring the achievement of world-class leadership in this area through the creation of an ecosystem that supports innovation, stimulates the implementation of the latest achievements of cyber-physical and embedded systems on a European scale, and avoids the fragmentation of investments in research and development and innovation (R&D&I).
European industry that is focused on ECS applications spends about 20% of its R&D efforts in the domain of embedded digital technologies, resulting in a cumulative total R&D&I investment of €150 billion for the period 2013–20. The trend in product and solutions perspective estimates a growth from €500 billion to €3.100–11.100 billion, which will be greatly determined by embedded software (30%).
About 60% of all product features will depend on embedded digital technologies, with an estimated impact on the European employment of about 800,000 jobs in the application industries directly resulting from its development.
The current employment levels in the embedded intelligence market in Europe is estimated to be 9.1 million, of which 1.1 million are jobs in the embedded software area, with €15 billion being expected to be allocated to collaborative European R&D&I projects in embedded software and beyond technologies.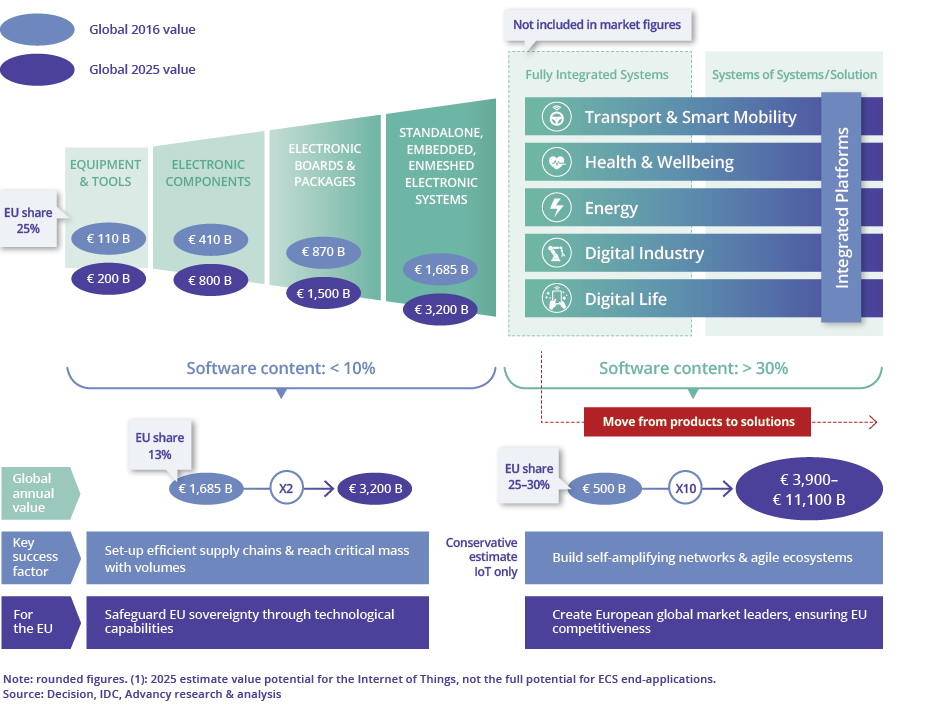 Research and innovation in the domain of embedded software and beyond will have to face six challenges, each generated by the necessity for engineering automation across the entire lifecycle of sustainability, embedded intelligence and trust in embedded software.
Major Challenge 1:

Efficient

engineering of

embedded

software

.

Major Challenge 2:

Continuous

integration

and

deployment

.

Major Challenge 3:

Lifecycle

management.

Major Challenge 4:

Embedding

data

analytics

and

artificial

intelligence

.

Major Challenge 5:

Support for

sustainability

by

embedded

software

.

Major Challenge 6:

Software

reliability

and

trust

.
The following table illustrates the roadmaps for Embedded Software and Beyond. The assumption is that topic in the cell means that technology should be ready (TRL 8–9) in that timeframe.
MAJOR CHALLENGE

TOPIC

SHORT TERM 2023-2027

MEDIUM TERM (2028-2032)

LONG TERM (2033 AND BEYOND)

Major Challenge 1:

Efficient engineering of embedded software

Topic 1.1: Modelling-based software engineering

Model-based software engineering enabling systems to become part of SoS

Model inference to enable re-use of existing subsystems in SoS

Model-based testing taking re-use of uncontrolled SoS into account

Topic 1.2: Digital twinning

Virtualization of legacy systems

Support virtual integration testing across varia

Support/allow (re)certification of systems via digital twins

Topic 1.3: Constraint environments

Exploiting hybrid computer platforms, including efficient software portability

Topic 1.4: Software technology

Co-simulation platforms

Middleware controlling dynamically embedded (mobile) hardware solutionysCompilers and link to new hardware

Programming languages for developing large-scale applications for embedded SoS

Major Challenge 2:

Continuous integration and deployment

Topic 2.1: Continuous integration

Virtualisation

Digital twin

Topic 2.2: Verification and validation

Major Challenge 3:

End-of-life and evolving off-the-shelve/open source solutions

Topic 3.3: Managing Configurations over time

Methods and tools managing composability and system orchestration

Individualized systems configuration management

Dynamical embedded software

Major Challenge 4:

Embedding data analytics and AI

Topic 4.1: Federated learning

Create federated learning at the edge in heterogeneous distributed systems

Federated intelligence at the edge

Topic 4.2 : Embedded Intelligence

Self-reflection: software AI framework supports acting on own system state

OS support for new HW (GPU, ASIC, neuromorphic computing,…) and platforms (EdgeAI,..)

Support dynamic adaption of systems

Topic 4.3: Data streaming in constraint environments

Feed streaming data into low-latency analysis and knowledge generation

Support processing by new HW (GPU, ASIC,…)

 

Accelerators and hardware/software co-design to speed up analysis and learning

Actual usage based learning applied for accelerators and hardware/software co-design

Major Challenge 5:

Support for sustainability by embedded software

Integration of green-aware aspects in software integration

 

Topic 5.2: Tools for energy efficient SW design

Design for extending lifetime

Digital twins that support green deal and enable sustainability (e.g. contain power models)

Support monitoring/ reporting energy production / energy profiles

Support scale-able processing depending on available energy

Topic 5.4 : Management of computation power on embedded HW

SW/HW support for energy awareness of embedded systems

Support for embedded HPC

 

Topic 5.5: Composable efficient abstraction

Enabling technologies for the second life of (legacy) cyber-physical systems

Establish relationships between power consumption and other quality properties

 

Major Challenge 6:

Software reliability and trust

Topic 6.1: Reliability of software and new hardware

Code coverage of

 

reliability

 

tooling and porting
Simulation

 

and mock-up based approaches for handling concurrency

Topic 6.2: Robustness (trustworthy, secure, safe, privacy- aware)

Define a maturity model for robustness of embedded software and beyond

 
 
Opportunities for joint research projects, including groups outside and within the ECS community, can be expected in several sections of the Application Chapters, the Chapters in the technology value stack and with cross sectional Chapters. There are strong interactions with the System of Systems Chapter. In the System of Systems Chapter, a reasoning model for system architecture and design is one of the main challenges. Part of system architecture and design is the division in which the system functions will be solved in hardware, and which will be solved in Embedded Software and Beyond. Embedded Software can be divided into two parts: software enabling the hardware to perform, and software implementing certain functionalities. Furthermore, there are connections with the cross-technology Chapters, Edge Computing and Embedded Artificial Intelligence, Architecture and Design: Methods and Tools, and Quality, reliability, safety and cybersecurity. With respect to AI, using AI as a technology and software components powered by AI in embedded solutions will be part of this Chapter, while innovating will be part of the Edge Computing and Embedded Artificial Intelligence Chapter, and discussing its quality properties will be part of the Quality, reliability, safety and cybersecurity. With respect to the Architecture and Design: Methods and Tools Chapter, all methods and tools belong there, while Embedded Software and Beyond focuses on development and integration methodologies. The challenges of preparing useful embedded solutions will be part of the System of Systems Chapter and the Embedded Software and Beyond Chapter. The embedded software solutions for new computing devices, such as quantum computing, will be part of the Long-Term Vision Chapter.
Related to the Health and Wellbeing Chapter, the digital transformation in the healthcare industry (see Section 3.4.1) causes software to play an increasingly critical role. More systems and devices are connected to the cloud to collect and combine data and provide SaaS solutions. At the same time, update cycles become shorter, while product and platform lifetimes become longer. These trends lead to the following implications on (embedded) software:
Cybersecurity is a crucial element in (embedded) software design.
The distributed nature of software across the system-edge-cloud continuum needs non-conventional software design and test strategies.
Wearable devices often require energy-efficient software design
Shorter release cycles require a higher level of efficiency and automation in the software engineering process, while maintaining the quality standard that is ex-pected in safety-critical systems.
Legacy code becomes a growing challenge in larger health equipment.