3 ECS Key Application Areas
In addition to the availability of technology, components and systems as described in other parts of this document, it is important that a number of societal needs are met, particularly the following:
Legislation for automated vehicles throughout Europe: some initial pilot sites have been identified, but an overall legislative framework is required to achieve full deployment of

highly automated driving

(

HAD

). To date, there has been no regulatory approach to define a security/ privacy framework for the IoT that involves billions of identities and devices being connected with each other. Technological stakeholders and the political arena have to share findings and derive recommendations to EU's and national regulatory bodies concerning the minimal regulatory framework needed to assure the security and privacy of citizens and companies.
Social acceptance of the technology by citizens and users: society (governments, media, press, citizens, educational institutes, etc.) has to be prepared for the introduction of some of this technology (such as by human factor-based questionnaires) and their thinking monitored to help define what actions can be taken on how new technologies and related services can be more easily accepted.
It is crucial that future systems meet the expectations of end users, and that their underlying technology and platforms can be operated by service providers with appropriate business models; end users will expect flexible, reliable and cost-efficient services that can be personalised for them. For both end users and service providers, GDPR compliance is essential to ensure maximum transparency and user acceptance.
Some examples of attention areas are:
Evolving from regional/national policies to a European-wide supported common policy with respect to

HAD

.
Evolving from regional/national pilot test sites to European-wide deployment.
Ensuring privacy protection in connected cars, and how this should be communicated to citizens.
The roadmap for the key digital technologies in mobility are aligned with European roadmaps for terrestrial, water and aerospace transport:
A new

European Road Transport Research Advisory Council

(

ERTRAC

) roadmap entitled "Sustainable Energies and Powertrains for Road Transport – Towards

Electrification

and other

Renewable Energy Carriers

".
Urban mobility roadmap.
Long-distance freight transport roadmap.
Towards zero logistics emissions by 2050.
The joint European Technology Platform (ETP) common paper published in 2019.
The European roadmap on connected and automated driving published in 2019.
The Joint Strategic Research Innovation and Deployment Agenda (SRIDA) for the AI, Data and Robotics Partnership (euROBOTICS), September 2020.
The roadmap combines the objectives in the application research programmes 2Zero and CAM with the derived KDT mobility challenges. The following roadmap indicates when R&D&l activities are required to ensure the key digital technologies are available for use in the different mobility domains. In areas that already have ongoing electric mobility, the focus is more on improvements to existing concepts (for example, optimisation of costs), while for others (such as electric aircrafts) it is more about focusing on lower technology readiness levels (TRLs). These are both going on in parallel, and are also influencing each other.
This roadmap is a preliminary estimate in regard to when ESBS (electronic and software based systems) will need to be ready for the various technology fields. It will be continuously updated as new domain roadmaps become available.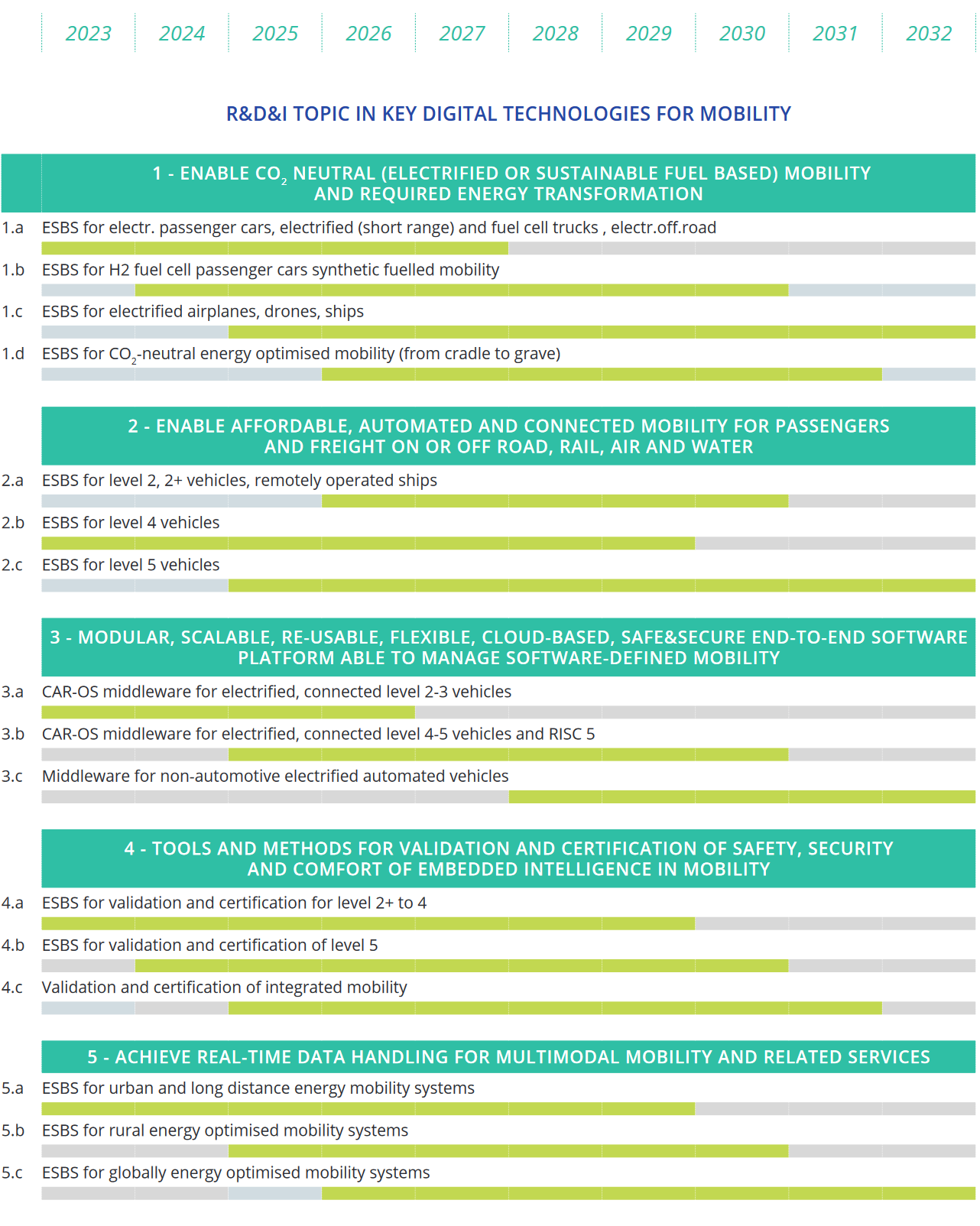 Mobility is a domain that needs multiple key enablers, as described in other Chapters of this document. It is transversal to almost all chapters, from components to systems.
For instance, semiconductor technologies are evolving rapidly. In the past, silicon was the dominant material, but its performance is now being outpaced by wideband materials such as SiC and GaN. These materials allow reduced packaging, increased operation temperatures, higher switching frequencies and therefore new concepts of compact power electronics modules. This is a major disruption that changes the market for electric mobility.
Closely linked to these semiconductor technology updates are packaging technologies. Moving from standard industrial modules to full heterogeneous integration is the second major disruption. Only adapted packaging can permit the full exploitation of the benefits of such new semiconductor technologies.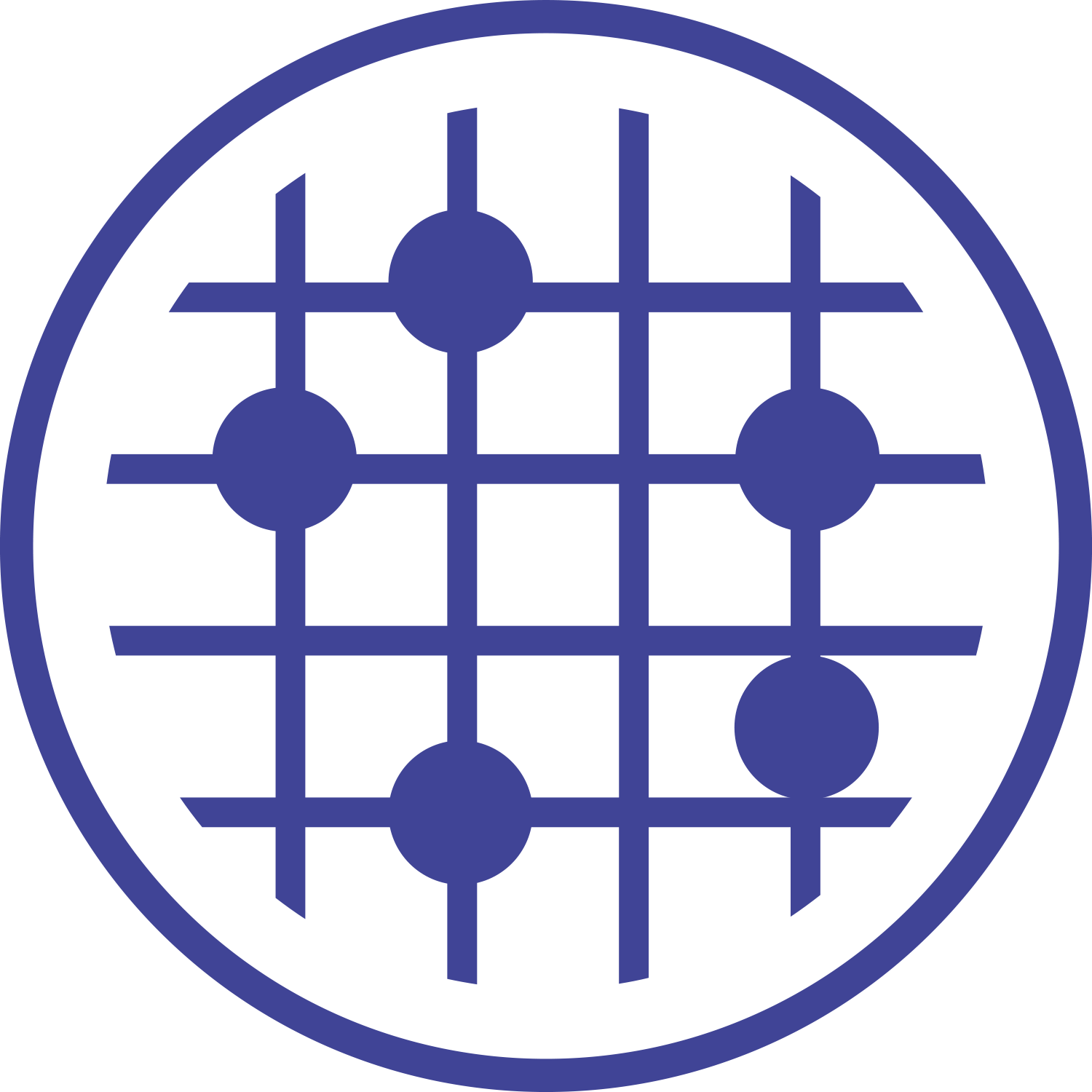 Other components that are of strategic importance are passives, such as capacitors and coils that can withstand higher temperatures and switching frequencies. For these, it is necessary to look at innovative materials that bring improved performance at a lower cost and a high rate of recyclability for the whole system.
The convergence of the automotive and energy eco-system for bidirectional charging and also in future the usage of cars as producers of electrical energy for the grid requires a close cooperation of the activities in Chapter 3.2.

A further aspect of mobility is the increasing level of automation, which is also having a huge influence on other in-vehicle components in the area of digital technologies for embedded software, AI, sensors, actuators and trustworthy communication. In this respect, there is a strong need for cybersecurity to protect cars, drivers and the environment. Remote access and OTA updates of rapidly improving complex software for the upgrade of car systems are therefore mandatory. This requires a safe, secure and available infrastructure in cities as well as rural areas.




This infrastructure includes 5G/6G communication to allow massive transfer of data to and from cars, which can be considered as "data-centers on wheels". In the background of such operations, a performant (and GDPR-compliant) cloud data system needs to support the mobility of each individual. The overall management of such an infrastructure should include smart grid operations to minimise energy waste and losses through inefficiencies, as is further elaborated upon in the Energy Chapter. It is clear that this requires system developments, from small sensor systems to micro and large grid control, including all aspects of cohabitation of modules and sub-systems. (electro- magnetic compatibility, EMC, and thermal considerations).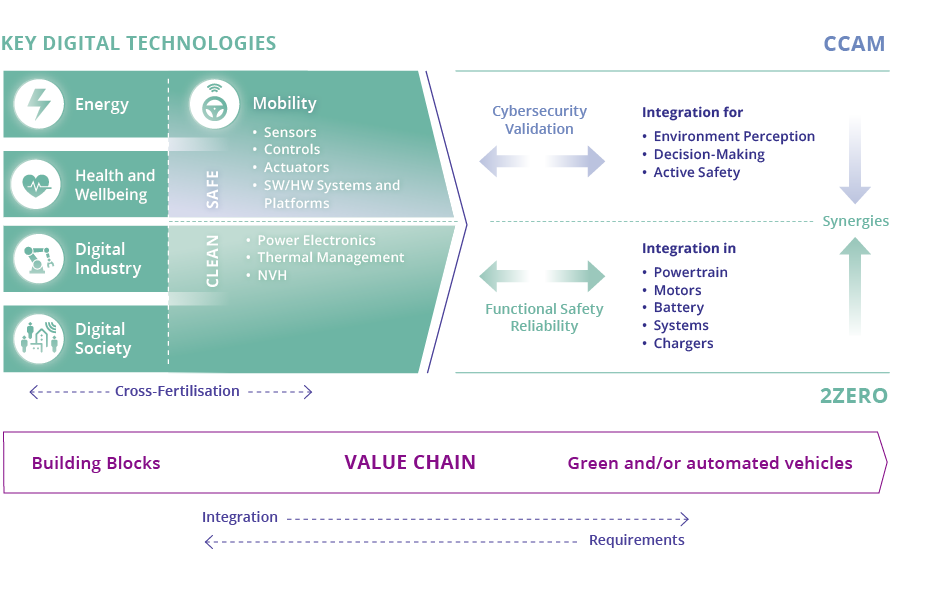 It should also be noted that synergy potentials exist between the domains of safe and clean mobility, not just at the level of the application in a multimodal urban mobility system but also at the level of the enabling technologies. Examples include electronic architectures for fail-safe power distribution and control within the vehicle, the functional safety and reliability of systems and cybersecurity, and control in power systems. Additional alignment is already in progress with existing or planned programmes for rail (Transforming Europe's Rail System), maritime (Zero Emission Waterborne Transport) and aerospace (Clean Aviation).